Salads can be an amazingly delicious meal if you make them right, I promise! And they are great for PCOS. Salads are one of my favorite things to eat for lunch over the summer months – not just because I think they are healthy but because I love how versatile they are. I can have a salad every day and not get bored! But … many of us get stuck in the same old salad rut when making them at home. But with some creativity, you can jazz up your own salads. My current trick is adding summer fruit and a zesty vinaigrette dressing!
Summer salads are the perfect meal for PCOS as they can be packed with nutrients, fiber, antioxidants, vitamins, and minerals. And better yet, they can help decrease insulin resistance & inflammation and improve gut health. You can make a variety of different balanced salads and be eating something different every day. This can be done by making sure you have a few simple components in your pantry. Furthermore, in the hot summer months, they make you feel alive.
What to include in your weekly shopping lists:
Greens for PCOS:
Not all salads have to have greens, but starting with a base of dark leafy greens ads tons of nutrients!
Some of my favorites are baby spinach, mixed greens, and kale.
Protein:
Ever eat a salad just to be hungry an hour later? Adding adequate protein will help!
You can use plant-based or meat options, and some I recommend are: quinoa, tuna, chicken, salmon, eggs, feta cheese, and legumes like chickpeas or black beans
Good Fats:
Fats are essential to feel satisfied after a meal and avoid bingeing on junk food around 4 pm. They also have several health benefits.
A few of my favorites are: avocado, olive oil, nuts
Variety of colors:
Eat the rainbow. I'm sure you have heard this many times before but seriously adding color and variety can make all the difference. I encourage you to try to add as much color as you can! Aim for 5 different colors per salad
Some great options: Apples, sweet potato, gherkins, daikon, onions, capsicum, avocado, tomato, carrots, purple cabbage, cucumber, capers, broccoli, peaches, beets, mango, and more!
Add varied textures:
This is one way to keep your salads interesting
I always opt for a variety of nuts and seeds to include crunch and texture into my salads. I especially love using walnuts because they are a significant source of omega-3 fatty acids. The taste is also so versatile it can lend itself to many different flavor profiles.
This week, I made two salad recipes that check all these boxes and I know you are going to love them! Recipes below.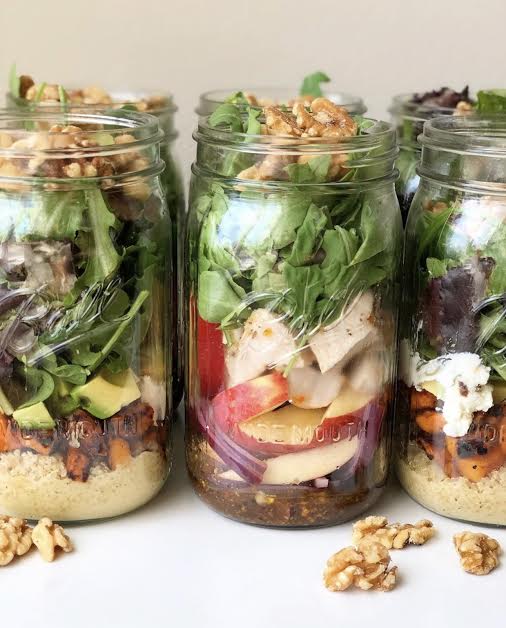 Prep Jar salads in advance for PCOS!
Another reason I love salads is that you can easily prep them for the whole week by utilizing mason jars. I do this on Sunday afternoons and I make salads for 3 days in summer and 5 days in spring. Our summers are super hot so I try and use fresh ingredients every 3 days.
Women with PCOS tend to suffer from cravings and binge eating so meal prepping can ensure you keep yourself on track and salads for PCOS are the ideal meal to make sure you are always on track. All you need to do – is plan out what salads you want to make then get your mason jars and layer the "wet" ingredients (dressing, fruit, and vegetables) on the bottom and then the "dry" ingredients (beans, grains, nuts, greens) on top. I do this to make sure that the greens don't get soggy. Store in a refrigerator and you can shake it and eat directly from the jar.
When you have a delicious lunch ready to go, it gives you the ability to actually relax and recharge during lunchtime. Eating mindfully is essential for your gut health and avoiding emotional eating later in the day. It also allows you to truly gauge when you are full. I'm guilty of eating lunch at my desk in the past while continuing to work.
My current favs:⠀⠀
-Chicken, greens, mango, avocado + lime/chili vinaigrette
-apple walnut chicken salad
-Shrimp, avocado, fresh corn, black beans, tomato, onion, lime, and olive oil
-Canned wild salmon, fennel, purple cabbage, feta, greens, tomatoes, olive oil, and lemon
One of my favorite jar recipes
Apple Walnut Chicken Salad
INGREDIENTS
4

cups

mixed greens

1 cup shredded carrots

2

chicken breasts (~1 lb total)

+ salt, pepper, garlic, Italian seasoning for baking

2

red apples

1

small red onion

1

cup

walnuts

1/2 cup dried cranberries

¼

cup

feta cheese

1 clove garlic
Balsamic Vinaigrette Dressing
1/3

cup

olive oil

¼

cup

balsamic vinegar

2

tsp

honey

1

tbsp

Dijon mustard

1

clove

garlic

salt/pepper
INSTRUCTIONS
Preheat oven to 400 F and line a dish with baking paper

Toss chicken in a mixture of avocado oil (or olive oil) and salt, pepper, garlic, Italian seasoning

Bake chicken for 25 minutes.

Make sure the chicken is cooked through

While chicken is in the oven, dice apples and red onion and chop the garlic

Combine all salad ingredients together & enjoy

*If making into jar salads, layer (from bottom to top) – dressing, red onions, apples, chicken, feta, cranberries, mixed greens, walnuts
Don't forget to follow me on
Instagram
for more recipe inspirations. If you want to learn more about improving your gut health join my
PCOS blueprint
group program.